E-mail Travelogue #4




Kia Ora once again,

You know I forgot to mention the quay (pronounced key) in Nelson is one of the most dramatic examples of high and low tides I've ever seen. There is a stone wall about 8 or 10 feet high with the top about 3 feet above the roadway. It curves around the harbor. At low tide there is a beach varying in width from about 10 to 50 yards with people strolling about, flying kites, picnicking, etc. During high tide the sea is pounding on the wall and there's not a spot of sand to be seen. Very eerie, actually.

We've all settled nicely into the house in Paraparaumu (try to say that fast 3 times) which is just about on the beach. As in most of the areas surrounding Wellington, the New Zealand capitol, it's windy. I admit to needing a down day Saturday, so Matt quickly calls and sets up a tee time at Paraparaumu Gold Course, where Tiger Woods will be playing in the New Zealand Open next year. Whoppee-doo! But I guess it's kinda neat for all you golfers. When they got home, they admitted they weren't going to be any competition for Tiger. *g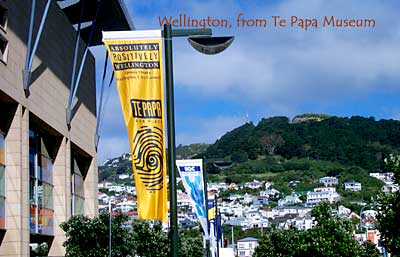 Sunday, we headed off to Wellington for the day. We started at the Te Papa, NZ's foremost museum – and it is really something. We spent about 4 hours wandering around and I never even got to one of the floors. They displays were quite interesting and many were interactive. From there we went to the Wellington Market. And what a joke on us. It's advertised everywhere as a place you can get buys – and it's only open Fri., Sat., and Sun. We found it to be a bunch of old, dirty stalls or tacky and used junk on the whole.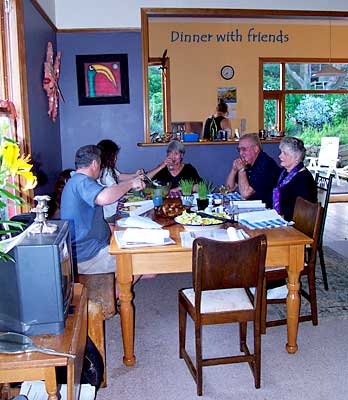 One gal there did have some wonderful tapua cloths. Matt bought a paperback and that was it. By then it was about 5:00 so we headed to the home of Ben & Marianne Offner, friends from our last visit, for dinner and a fun evening of catching up. Ben's mother, Pauline, from England joined us. She's trying to decide if she wants to move back to NZ or not. Lots of laughs, beer & wine, snacks, and good friends made for a wonderful evening, and too soon it was time to take off.
The next day Ethelmae conked out so I got an extra day of rest and sent the guys out to a car museum they were interested in visiting. While they were there some of the cast of 'Chicago', opening this week, were there posing for publicity pictures with a "gangster" car. When they returned, we all headed for the Lindale Center for lunch and a tour of their tourist shops. The other 3 selected a beef and tomato casserole, which turned out to be a great hearty beef stew. Having to be different, I had the minestrone soup, which was delicious – almost as good as mine. *vbg
I found a couple of watercolors that I had to have – a small one for my travel wall in my office and a large one I think will go in the master bedroom – a very typical NZ beach scene of the wind blowing on a grassy beach filled with gulls on the ground and flying about. And, of course, the ever present clouds. It's a new gallery and they don't ship, so I asked if I could buy the watercolor without the frame, mat, and glass. The owner called the artist, I talked to him, we agreed on a reduced price. He said he'd repackage it for us to pick up in a couple of days. And on I went to the next shop. As we were leaving, the owner came out of the shop with the artist who'd driven over and we were able to chat for several minutes.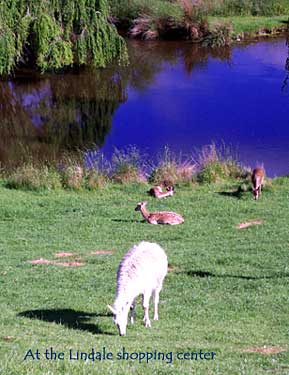 Tuesday is a cloudy, rainy, dreary day, but in the early afternoon we take off for Wellington once again. We caught the City Circular bus for $5NZD for all 4 of us for the day. It makes a continuing circle around the city and you can get on and off as much as you want. It was a great way to see the city and stop now and then as we decided. We stopped at the Old St. Paul's cathedral which was built entirely with local woods, instead of brick or stone as was the norm in the mid-1800's. The warmth of the woods lent a stirring feeling inside that just doesn't come with any other building material. Marianne had made some theatre reservations for us so we headed off to the Downstage Theatre to see On The Razzle, an English farce. English humor being somewhat different from American (is that an understatement or what?) we had to really concentrate on both the accented (at least to us) language and the English play on words. But we all enjoyed it immensely.
Rice Krispies are Rice Bubbles and Frosted Flakes are Frosties. Oreos have only recently been introduced here. Police officers don't carry guns. Fillet is pronounced fill-it. We've looked at hundreds and hundreds of postcards and haven't been able to find one of a golf course. Nov. 15, 2001 is 15/11/01. On street signs, TCE is Terrace and PDE is Parade. Yes is Yep – and used A LOT.
Matt and Jim hit the links again the next day, we messed around the house and then went out to Aqua Vitea at the Lindale Center for our last dinner together in New Zealand – for Jim and Ethelmae head home tomorrow. It's the first time Matt and I have traveled for such a lengthy time with anyone, and I admit I wasn't sure how it was going to pan out. We didn't always agree on everything, but we really did have a wonderful time together. Can you imagine 4 adults sharing one bathroom?
We talked, we laughed, we remembered the last few weeks, and had one of the best meals ever topped off with incredible desserts. It was truly a fitting end to our time here together.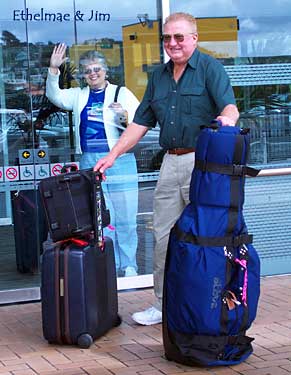 After dropping them off at the airport the next morning with lots of hugs and kisses all around we drove back into town and had lunch at the Eden Wharf – sitting right over the rolling sea and watching the ships and the shore.
We goofed around in town for a while, hit the Museum of Wellington City and Sea, and then went on to Ben & Marianne's home. The 4 of us and their 3 children all took off for the Beijing Restaurant for a great dinner. One of the dishes was Roast Duck with Garlic and Chilli Sauce. I swear it was the best duck I've even had in my life. We parted amid more hugs and kisses and as we left I wondered if we'd ever again see this family that had become friends, though separated by 11,000 miles.
On our way home we got stopped in a drunk driver check point, but Matt passed gloriously.
Until later,
Carole