E-mail Travelogue #5




Polly, I should have figured that was Dick's weird sense of humor.
Misfire, George, Dixie, David, Bonnie, and Pat thanks for the notes. I appreciated them.
Pat, bless your heart. You don't know how much I appreciated your visit to my mom.
Carol, no notes or recorders (why didn't I think of that). Just this buggy old brain trying to remember. *g
Dixie, your work is wonderful.
Pam, thanks for visiting mom. She was happy to see you.

Once again we're on the road.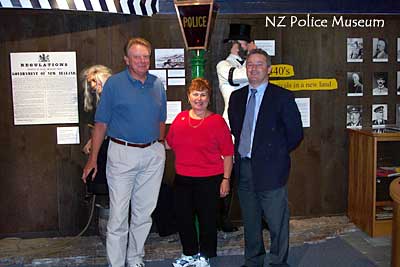 This morning, after cleaning the house, leaving the keys at the local police station and picking up a watercolor I'd purchased, we headed for the New Zealand Police College and Museum for lunch and a tour with Ben. He's currently assigned there as an instructor, but will be taking over his own station come January. After a quickie lunch we headed for the Police Museum, Ben having confessed he'd never been there even though it's on the College grounds. Sitting right out front of the museum we found a CHP car, believe it or not. Left over from some movie production and donated to the museum. Alas, upon inspection, Matt said it wasn't actually a real CHP car, but a mock-up for the movie.
The museum was fascinating, offering a close look at the full history of the NZ Police and many of the cases they've been involved in. Although small, obviously a lot of heart and thought went into setting it up. It's open to the public and I highly recommend it.
BTW, after sending out Travelogue #4 I received this from Ethelmae and thought you'd get a kick out of it. "It's nice to know you had a good dinner and a nice time with Ben and Marianne. At about that same time Jim's luggage was being inspected. He will blame Carole because that little sheep we bought [Baa!] caused the trouble. Once the guard saw it he just laughed and unhandcuffed Jim!!!" *vbg
We're in Masterton for the night and just had one of the most unique and fun dinners. It's called 'StoneGrill" Have you ever heard of it? We hadn't, but decided we had to give it a try. Nope, they don't cook it in front of you and then add it to your plate with the rest of the goodies. That's what we thought at first. They heat this stone, made in Australia, in a 400 degree oven then put it on a special plate. The meat is put on the stone and brought to your table, where you cook it as you eat it. Yup, that's what I said. We ordered the fillet (pronounced fill-it). We'd slice a piece, sear it, and eat it before cutting off another slice. Fantastic!!!
I told Matt people in the states would love it. He responded with, "It'll never work. The first time someone burned themselves they'd sue." Damn, but he's right. Not a very good commentary on us yanks.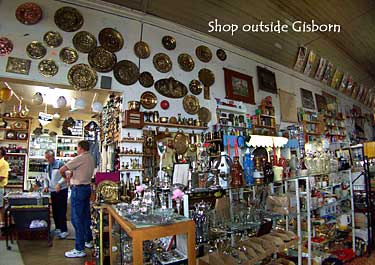 Our destination for the next night was Gisborn, new territory for us. It's the easternmost city in NZ and was the first city to see the dawn of the new millennium. We wandered around town for a bit and made it an early night because we head to Mt. Maungauni where we have our next house. It's a popular beach town. We'll be there for 4 nights.
Rain! Rain! Rain! Yikes, what a drive. Even though we split up the driving between us, it was a long day, but we finally arrived around 4 and headed for the police station for the keys only to find they were at the Tauranga station. When we got there we were told the keys had been left at the house on a table. So we headed for the house and, oops, someone is here. A young family. Supposed to be out by 10am. Obviously, not in the process of leaving. This has never happened before. We knocked and asked if this was unit #2. "Yes." "I believe we're supposed to have this unit today." He turned to his wife and asked if she had the confirmation letter while I pulled out ours. His was dated through the 18th and we were to move in the 19th. "What day is this?" "The 19th", I reply. "No", says Matt "It's the 18th". Face burning I apologize. The guy asked what we were going to do. "Not a problem", says I (I'm learning the lingo) "We'll just grab a motel for the night." Hey, nobody's perfect! *g
Do you know what 'panelbeaters' are? Guess. How about a 'cool store'?
Virtually all of the toilets here have a 2-button flush system. One for liquid waste, and one for solid waste. Good example of water conservation. Doctor's offices are called surgeries. You can't buy Crest toothpaste here. Heinz is here with a whole line of tinned (that's canned to us) goods. They have the same shaped logo, but go by the name Wattie's. Campbell's has a full line of soups I've never seen before. Tuna comes in flavors. That's right. Savory Onion. Garlic. Smoked. We got the smoked and it was delicious. Woolworth's is a grocery store.
We went to a Maori village where Matt picked out a couple of tole paintings and I found some Kauri Gum to make a couple of necklaces and earrings. We wandered through their burial ground dating back to the mid-1800's, watched weavers and woodworkers, and strolled the gardens. Remember, this is a fairly new country by the world standards, not being settled until the early 1800's.
Found in a museum on a Soltan De Luxe Electric Shock Machine - "Devices such as this were common in the late 19th century and early 20th century. The "SDL" was alleged by its makers to cure almost every ailment, inc. acne, "Brain Fog" impotence, dandruff, and warts." *shudder
We wandered the streets of town and strolled the beaches in the warm sun with cool breezes. Outdoor cafes abound. We walked out to Moturiki Island (low tide) and climbed a hill to view a blowhole, which wasn't blowing as the weather was too nice. Standing atop this island with the wind blowing through your hair and the gulls squawking and nesting in the cliffs below was terrific. I wish everyone one of you could have been there to share it with us.
We dined one night at Spinnakers on the Tauranga wharf watching the sail boats, the birds and the sun as it sank into the sea. Marvelous.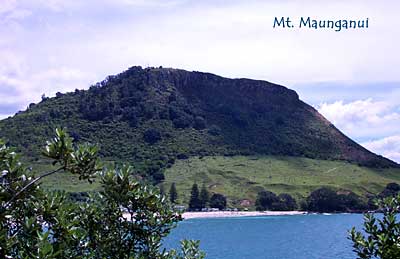 And then, and then….. we treated ourselves to an hour massage each at the Saltwater Hot Pools. What decadence! *vbg Although I see a physical therapist regularly, a massage therapist was a first for both of us. I've seen prices in our area of $60-$75 hour. It cost us $40NZD for an hour That's about $18USD and worth every penny.
The time is simply flying and we'll be heading to Pahia next for 6 nights.
Hugs to all,
Carole