E-mail Travelogue #1




Kia Ora,

Meant to have this off a few days ago, but we had a problem with the phone line in the first house and I just got online last night - and had over 350 messages waiting. LOL

After all the stories I've heard about getting on planes and going through customs, we thought we were prepared for the worst. To our immense surprise, and appreciation, we waltzed through everywhere. No one asked to see any luggage, or even asked any questions. Oh, I take that back. I was wearing my TENS unit (electrical nerve stimulator) and it set off all the bells and whistles. People kept yelling for the wand. However, I was only asked what it was. Oh yeah, and when we arrived in NZ Matt was asked if his golf shoes were clean. They don't want any dirty US dirt here. *g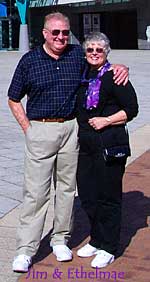 We are traveling with Matt's brother (Jim) and sister-in-law (Ethelmae), who are from Yuba City (about 50 miles NE of Sacramento. We hooked up in Sacramento, flew together from Sacramento to Los Angeles to Auckland to Christchurch and finally settled into the Christchurch house. The flights were long, but uneventful. We left Sacramento the 22th at 3:30 pm and arrived in Christchurch at 10:30 am on the 24th. Well, we did cross the international date line along the way.
The weather is cloudy and dreary as we land. Even a bit of a drizzle. I was so looking forward to spring and lots of sunshine. We're told winter is hanging on a bit long this year and they've had a drought for the last 9 months, so every little bit of rain is welcome. Since Matt's a member of IPA (International Police Association) we're using NZ police housing. Folks, this is great. We get a 3 bedroom fully furnished house for peanuts. (NZ$45) All we have to provide is our linens. Christchurch is the first one we're staying in. We jumped right into the thick of things. Matt and Jim brought along their golf clubs and couldn't wait to hit the greens. They booked a tee time for the next day and Ethelmae and I decided to check out the Art Centre. I'd missed it last time we were here and was looking forward to it. It's the old Canterbury College with all the old buildings and dorms, etc. Built in the late 1800"s I believe. It's like a rabbit warren with arts and crafts people in most of the old rooms. Gorgeous hand painted silk scarves, beautiful knitted sweaters and jackets, incredible wood carving, paintings, carving, potters, rugs, jewelry, furniture, and on and on. The guys met us there for dinner at Annie's - a definite don't miss. It's like you imagine a bit of olde England would look like. Matt and Jim had the most wonderful, succulent lamb I've ever tasted. It just melted in your mouth.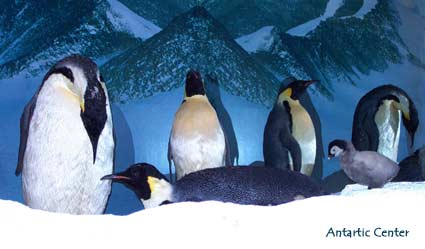 Take out food is take away here. 'Not a problem' seems to be the national saying. $NZ100 = $US43. Gas is petrol, and sold by the liter. People go on holidays, they don't take vacations. 'Give Way' signs outnumber 'Stop' signs by about 8 to 1.
Our week in Christchurch was packed to the gills. The Antarctic Center, the Canterbury Museum, the Christchurch Botanic Gardens, Punting on the Avon I talked about in my e-mails of 2 years ago. If you're interested, you can see them at www.acrossthebridge.com - New Zealand Our Way.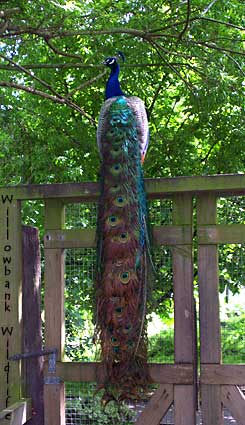 I swore up and down that this trip I was going to see a kiwi or else. Willowbank Wildlife Preserve seemed the most promising. It really was quite interesting, but the highlight for me was the nocturnal building. As kiwis are nocturnal birds (with fur instead of feathers) this building is kept dark - really, really dark. Just a few low wattage bulbs spaced quite far apart. My first step inside I heard a noise off to my left and spun around. Yipee!!!! There's a kiwi. It was walking along a branch towards its home. But I saw it - I really did. Walking quietly and looking around I was keeping a concentrated watch for more. Then I saw Matt, Jim & Ethelmae up ahead beckoning to me. Wow!!!! There was another kiwi walking down a small hill eating as it went along. This is soooooooo neat! Jim & Ethelmae went on, but I was determined to stay. After a bit it started down towards the fence (about 3' high) where Matt and I were standing. Closer. Closer. And then it was standing directly in front of me - so of course I just absolutely had to break the rules and reach over to touch it. Definitely a high point of the trip.
Another new experience was the Christchurch Gondola (tramway to all Yanks). Over 500 metres above the city it goes and a good part of it is almost straight up with a gusty wind keeping the car swinging to and fro. And sheep all over the hills below. I swear you've never seen so many sheep in your entire life as you will in a few days in NZ - people population 3 million, sheep population 80 million. The view at the top was incredible - Lyttleton harbour with all its ships, the green manicured hills you see throughout the country, the steep mountains of the Southern Alps with snow still dotting them and the Canterbury Plains. We had dinner there, and as nice as the food was, the service, in the form of 2 gals named Jay and Monica, was truly 2 thumbs up. We were treated like royalty the entire time we were there. Jim asked if they had ice tea (on very few menus here) and Jay said no, but she'd be glad to make some for us. Told us she could make great ice tea because she was taught by an American customer from Texas. She was right - it was delicious. But the absolute highlight of the evening was our trip down. Our return trip was delayed due to heavy winds. *vbg Finally the go ahead was given and we boarded our cars for a trip of a lifetime. Looking over Christchurch was like looking at gold and silver jewels thrown across a field of black velvet. It was absolutely incredible - and I didn't have a camera with me. :-(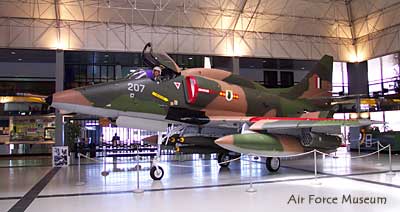 We stopped at the Air Force Museum on our way out of town. The history section was particularly interesting, as were the old planes which have been restored. As has happened several times this past week, I was asked if I was an American (I wear my eagle and flag pin daily) and condolences were extended because of the attack. I chatted at length with a WWII pilot who had several questions about the attack.
And we're off to Kaikoura for a couple of days before heading for Nelson.
Mom, haven't heard from you. Hope you remember all the steps in sending email.
Siouxsie, hope you're not quite so sore still.
Kirsten & Erin, you're going to love Christmas this year. *vbg
Cheryl, saw some Ice Wine and thought of you. But I asked and the grapes weren't really frozen when picked. I have to admit your Canadian Ice Wine just can't be beat.
Pam, thanks for letting me know Owen had arrived.
Hugs to all,
Carole