E-mail Travelogue #2




Once again we're on the road. This time to Kaikoura, New Zealand's whale watching capital. We rented a van for the trip – a Toyota Lucida (Prevara, in the states) – and its packed to the gills with all the luggage and golf bags. Matt says we might also have to rent a trailer for all our stuff. *g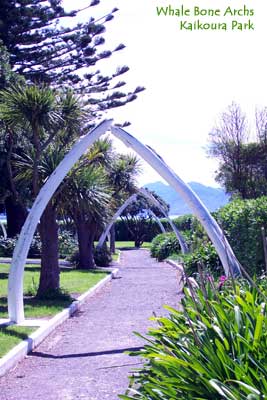 I swear Jim is as much a golf fanatic as Matt. Our first day here they absolutely HAD to hit the greens. They played twice in Christchurch and are talking about playing tomorrow in Kaikoura. While they golf, Ethelmae and I shop – seems like a fair trade off to me, right? *vbg
The two and a half hour trip from Christchurch to Kaikoura (on the east coast of the South Island) is through green rolling hills with herds of cows, deer and the ever present lambs with a few goats thrown in for some reason. Then we are traversing the coastline, and the beauty of it is incredible – a turquoise and green and blue sea crashing into huge rocks strewn along the coast. We see flat black sand beaches and shear cliffs and fur seals. It's springtime here and the flowers are blooming everywhere. The rhododendrons are incredible. They are everywhere and they are huge. They are also every color imaginable. Golden yellow Scotch Broom covers hill after hill. It was brought over by the English, as were the rabbits, and has taken over the country, as have the rabbits, or so I'm told. And over everything is a blue sky and the always present white clouds, wispy and floating swiftly by. Did you know the Maori name for NZ, Aotearoa, means land of the long white cloud?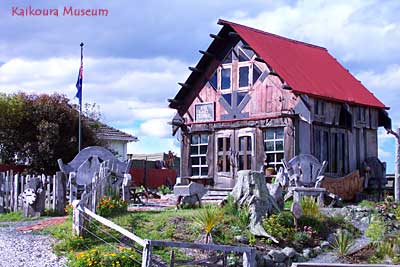 We're staying in a motel for our 2 nights here and the guys have decided to treat us to luxury spa rooms overlooking the sea. They've booked us into the White Morph which turns out to be quite lovely. I definitely recommend it for your visit here.
Matt & Jim head out early for golf and about 9:30 am and Ethelmae and I walk into town (about a 7 minute walk) along the coast. Kaikoura is a small, quaint town and our first stop is an artist co-op. Yeah! Oh yeah! I splurged on a gorgeous mauve and smoky blue hand painted silk over-shirt. Yummmm. Ethelmae is looking at a wonderful piece of pottery as the guys walk in. I wish someone would explain this fascination for hitting a little white ball into a hole in the ground. We head for the edge of town and the Paua factory. I'm looking for a pair of carved bone earrings to go with a pendant I bought on my last visit. Alas, no luck, but Jim finds a little ice cream shop so we all (except for Ethelmae, who is allergic to dairy products) splurge on some really good ice cream. I had strawberries and cream.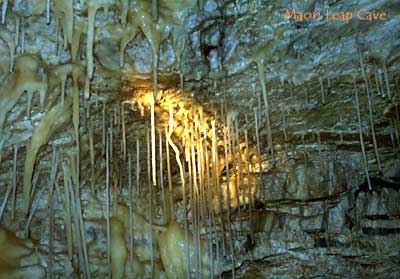 Then we headed a little bit out of town to the Maori Leap Cave, a small limestone cave purported to be about 8 million years old. It was found in 1958 when some quarry blasters blew a hole in the roof by accident. The original entrance has yet to be found. It's been kept in its original condition. Water is constantly seeping through the land above keeping it quite damp in most areas. It was about 200 meters deep with some very interesting formations.
We ended our day at the Kaikoura Wine Company for a short tour and tasting. It's a young winery and they are buying all their grapes at present. We've had some wonderful wines over the last week or so, but were disappointed at what we tasted here. Matt & Jim, however, found golf shirts they liked in the gift shop.
It's Friday and we're headed for north, up the east coast, and then west to Nelson, the artist colony of NZ. We make several photo stops along the way and get a bit of drizzle now and then. It's only about a 4 hour drive, but we had a late morning and so it's almost 5 by the time we arrive.
Ummm, just remembered, I think I forgot to mention that while in Christchurch we took the all day TranzAlpine RR trip from Christchurch to Greymouth, on the west coast, and return. I'd read and heard a lot about it but we didn't have time when we were here before, so I was determined to do it this time. I had our reservations made before we left home. Everyone told of the beautiful scenery and vistas, but maybe it was just built up too much. For a country with such incredible scenery, this was a major disappointment. The truly unique parts of the trip probably didn't amount to more than 10 minutes as far as I'm concerned. Not something I recommend wasting time or money on.
We picked up the keys for the Nelson police house at the police station and then settled in for the next week. As the courses are too crowded for them on week-ends, Matt jumped on the phone and got a tee time for Monday am. I told him to pick us up in town around 5:15, so he got back on the phone and arranged to play another course in the afternoon. LOL LOL
Jim hasn't been feeling quite up to par (no pun intended) the last couple of days, so Matt called and made an appointment for him to see a local doctor. Believe it or not, he got an appointment for 45 minutes after he called. They took off and Ethelmae and I caught up on laundry. They returned sometime later (after checking out where the local course was) and we found out that the doctor visit was only NZ$45 and his prescription a whole NZ$6 – and it was filled in less than 5 minutes. Incredible!!!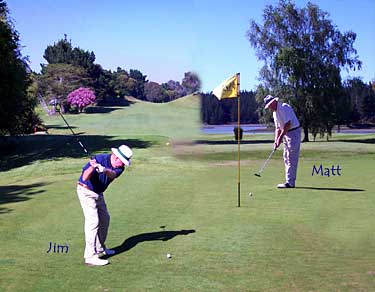 This morning we headed to a local week-end market to look around. Then we drove down a short street than has been restored – miners cottages from the mid-1800's. Some are currently being lived in, and others are available as accommodations (what NZealanders call various places to stay – hotels, motels, B&B, etc.). From there to the provincial museum where we say a really interesting exhibit on Sara Greenwood, an early pioneer woman who had 11 children, ran a house and farm, painted, started the first girls school, did volunteer work and much more. She and her doctor husband emigrated from England and were among the first white settlers here in Nelson.
Then to lunch at a pub called The Honest Lawyer (is that an oxymoron or not?) The décor was neat – a blending of antiques, old farm implements, old musical instruments, household stuff, tools, etc. hanging from the ceiling and the food was plain, but good. Matt's mussel chowder came in what looked to be a 2 or 3 quart bowl and everyone's eyes popped – but it was less than half full. *g
Our last tourist stop today was at Brookgreen House, a restored Victorian. Our Kiwi guide, married to an American, was a real hoot. She thought the pork salting rack would be perfect for creating an Egyptian mummy.
It's now Sunday evening and I'm exhausted. These last 10 days have been go, go, go. I'm not about to tell Matt, but I'm getting tired of eating every meal in a restaurant. All I want tonight is a bowl of cold cereal and a piece of toast. Ethelmae says that sounds good to her, too. So we send Matt & Jim off to have dinner on their own. They show up about 15 minutes later with bags from the golden arches – and I crack up. I don't know about Jim, but Matt doesn't even eat there when we're home.
Oh, remind me to tell you about Jim and NZ milkshakes in the next letter as this one is plenty long enough.
To all those that responded to #1 – thanks.
Cassie, I'm really, really sorry I forgot to put you on the email list.
Mom, hope you can download this.
Mari, hope you're feeling better. Was so good to see you in chat before we left.

Hugs to all,
Carole