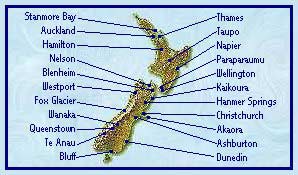 #9 - Farewell New Zealand

Oh horrors, only 2 more days to go!!!!

Did I tell you Matt's been making tea for the two of us every morning. Isn't that sweet of him? Seems that when he first came over some of the guys here introduced him to tea with sugar and milk and he really liked it. Now I've been a tea drinker forever, but only with sugar - never milk. So Matt made it for me my first morning here - and he's continued. Whether or not that will continue when we get home is a whole different story. *grin

About 9:15 we took off to meet Shirley at Kelly Tarleton's Underwater World. Ohhhhh, this is really neat. A definite must-see for anyone and everyone in New Zealand. The first section is penguins. I love those little things. Did you know that a few million years ago there were penguins that were 4 feet tall and weighed over 120 pounds? Wow!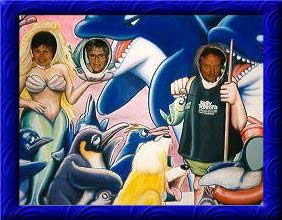 They have their very own frozen wonderland here and were so very active all the time. Sliding along the smooth ice on their tummies. Jumping and sliding into the water. Playing chase in the water. Popping up to the surface. Waddling along the snow. They are so adorable. I'd like to pick one up and just hug it.
Next came the utterly fascinating recreation of a cabin used by the Scott expedition to the Antarctic. They actually took a printing press and printed their own newsletter, for Pete's sake. They slept in sleeping bags made of reindeer fur. The hair is hollow and offers the best insulation. Bet you didn't know that! The photo equipment was incredible for that day and age. The bunks looked awful small and the lighting was really poor. The Coleman's Mustard tin looks almost the same as the one in my kitchen cabinet at home. Boxes and boxes of Cream Crackers [water wafers]. Lipton tea. Lots and lots of books. Tins of roast mutton. Compasses, surveying equipment, wooden skis and on and on. It's hard to imagine what those men went through during the 3 month long winter night.
And finally we came to the fish, crayfish, turtles, sharks, rays, eels, etc aquarium. And this one is something else. There's this giant perspex tube that runs through it and you walk through the tube with fish swimming all around and over you. It's a really weird feeling to look up and see a shark swimming less than 2 feet over your head.
By this time we were all starved so we headed for Kelly's Cafe for a bit of lunch.
Afterwards we headed for the Skytower. Awesome! Over 1000 feet high, it's the highest tower in the southern hemisphere. We soared up about 2/3 of the way to the observation deck for a 360 degree view of Auckland. We spotted the America's Cup area we had visited a couple of days ago, Mt. Wellington where we'd gone for a view. One Tree Hill - the Auckland Bridge - Victoria Park Market - the Zoo - the Coromandel Peninsula - Eden Park.
And as we started down, lo and behold, Shirley came up with the bright idea of going bungy jumping off the outer ring. BUNGY JUMPING???? ME?????? Is she nuts? Well, I'm here to tell you that after a lot of coaxing and teasing I finally agreed. Jeez, I have to be out of my bloody mind! *VBG But wait until you see the photo of us taking a dive off the Auckland Skytower! [We weren't all the way up to the top] Watch out for this gal - she's definitely a bad influence.
Back to Kelly Tarleton's's to pick up our car and say good-bye to another new friend. We had a ball today - well, most of the day, anyhow. And after a bunch of hugs all around we wave and head back to our home for the night.
May 19th - our last full day in New Zealand. ;-(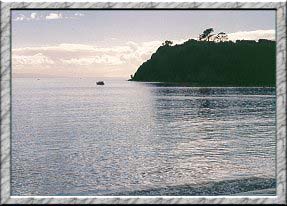 Walked down to the beach this morning and fed the birds. One minute there's not a bird in sight and the next there are dozens. Squawking and a pecking and a fighting for every crumb. Went through about a half a loaf of bread.
Then we were off to meet Nina and Ken in Thames, on the Coromandel Peninsula. I've known Nina from the 50+ Friends Club for 2-3 years. For a while she wrote a cooking column for the homepage. Prior to our coming over she went out and gathered a huge package of information on NZ and sent it to me. It was an immenese help in planning our trip. It was a 2 hour drive but once we cleared the Auckland area it was quite nice. Rolling hills, sharper, tree covered hills, sheep, cows, farms, vineyards, streams, rivers, one lane bridges - typical New Zealand.
We met Ken downtown and followed him back to their home. Nina was waiting for us on the front porch with a bright smile. Big hugs all around. They have a lovely home overlooking the water with a great garden. We talked about some of the local birds and flowers and trees for a bit and then went in for lunch. No light snack here. LOL LOL First course was a thick vegetable beef soup. Then we had salad, corned beef, potatoes and peas - oh, and champagne. *VBG Gonna have to eat a very light dinner for sure tonight. The four of us chatted like old friends covering everything from history, politics, computing, NZ -- US differences, police work, etc. I saw some of the ceramic work Nina does and it was really good. She's a very talented lady. Ken is very much into computer graphics. Then we went into the lounge for coffee and tea and muffins and cookies. Nina presented me with a beautiful kiwi pin. The hours sped by and all to soon it was time for us to be on our way. After more hugs and promises to keep in touch and see each other again we headed back for our holiday home to finish packing for our trip home and clean up the house.
Well, the packing is done - and boy, am I good! Even though we brought 3 times as much stuff as we needed [and despite what Matt says I honestly and truly didn't pack the kitchen sink!] I managed to get everything we brought plus all the stuff we bought along the way into our bags. Not bad, huh?
Tomorrow morning we'll be meeting Ken and Nina, and hopefully Shirley, for a good-bye lunch. What a grand way to say farewell to this wonderful country.
It's truly been a month we'll never forget.
Carole and Matt
P. S. I'll try to catch up on all the personal email within the next week. Aqua buddies, I'll see you Monday morning. 50+ers, I'll try to get into chat in a day or two. Family and friends, I'll be in touch.Hugs