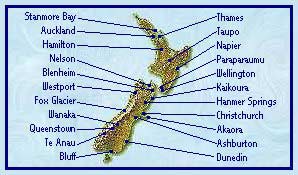 #8 - Stanmore Bay

We leave Taupo on a dreary, rainy day. The skies are leaden and heavy. But not to fear there's adventure around every corner. *grin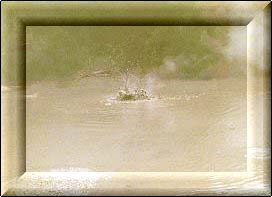 First stop, Huka Falls. Even in the rain this is worth while. But after a few minutes we decide to move on to the Mud Springs. Kewl, or rather HOT! Bubbling plops of mud spurting hither and yon. Trying to catch one of the wee geysers on film is just downright hard, but I persevere and finally succeed. When the spurt stops spurting it leaves an impression almost like a flower which looks smooth as silk. Kinda neat, really. Most of the rest looks somewhat gritty, but when you rub it between your fingers it's like running your fingers over the finest of silks.
The scenery on this section of the North Island is about the prettiest we've seen. We went though some flat farmland that had these huge hills sitting on them, like big pimples. *VBG Sorry about that.
BTW, on the menus here US appetizers are NZ Entrees and US Entrees are NZ mains. Desserts seem to be desserts anywhere in the world. Marshmellows are always served with hot chocolate and they are different too. About half the size of our regular ones and firmer. They also have more flavor and are less sweet.
We wind our way up to Waiotaupo - sulphur hot springs. Ohhhhhh, they do stink!!!!! We stopped here for lunch, but decided to eat inside instead of out under the awning on the patio. Decided not to take the tour in the rain so we shopped for a few souvenirs [Matt just loves this part of our trip :-) ] and get back on the road to Hamilton. We're meeting Vianne from the PSPUG [Paint Shop Pro Users Group] tonight for dinner. That should be fun. We get into Rotorua, skirt the city and keep going. Sight-seeing in pouring rain isn't real high on my to-do list.
As we head into the city we start looking for a motel. I mean, doesn't EVERY city have motels along the highway coming into or leaving town. Nope, they don't. We go left, turn around, go right, curve around this street and yikes!!!! Finally stop at a BP station. It's getting on 5 and I'd like to call Vianne to let her know we reached town. Also want to find Ulster St. [where most of the motels are listed as being]. It's really hard to find a phone booth that takes money over here. They're set up for either phone cards or credit cards. Sorry, they don't know of any cash ones in the area. A fellow in line is listening to our conversation, pulls out his cell phone and tells me to use it. "Are you sure?", says I. "Not a problem", says he. And he refuses to take any money for the call. Then he gives me directions to Ulster St. and we're off again.
I don't remember if I mentioned it before, but all the motels here have fully equipped kitchens in each room and provide coffee, tea, salt, pepper and sugar. When you register they give you a carton of milk. It's really neat. After checking in Chloe's Motor Inn, I called Vianne again and we arranged to meet here at the motel before going off for dinner. Another newbie at meeting internet people. *VBG Vianne is in charge of the education part of PSPUG and teaches PSP online. This gal really knows her stuff! She's been on holiday in Australia and just back a few days. We hit it right off and in no time at all were yakking about PSP, computers in general, New Zealand, politics here, and anything else that comes to mind. After dinner we went back to the motel and chatted some more. This is so fun!
The rest of our time will be spent at the holiday home in Stanmore Bay, so we head for Auckland - but with an important stop first. Now it's time to meet Shirley - another 50+ Friends Club member. Misfire put me in touch with her several weeks ago and we've been emailing since.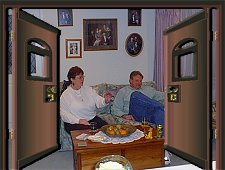 I called her before leaving the hotel and she gave me directions for meeting her off the highway. But, oh woe is me, somehow I muddled up her directions and instead of a left and a right we just did a left. But we came to a covered shopping mall like she described that had parking across the street like she described. We thought we were in the right place. *VBG The only cash phone was out of order of course, but a nice clerk told me to go ahead and use the store's phone. I called Shirley, told here where we were and she said she'd be there in 20 minutes. La de dah de da. 20 minutes passes, 30 minutes passes, 40 minutes pass. Now I need to call her on her mobile which is a toll call. So I buy a phone card and call. She picks up immediately, "Carole, where are you?" Yup, we're at different shopping centers. "Stay put" About 15 minutes later she arrives and it's big hugs. Another first timer. We follow her home where she has lunch waiting for us. A heavenly pumpkin soup. Pumpkin is used as a common vegetable here, but I haven't seen a pumpkin pie listed on any menu. Also the rind on it is gray. Not at all like our brilliant orange.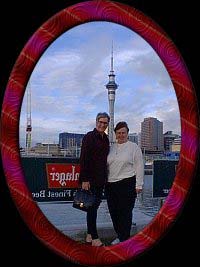 Then the three of us are off for a quick tour of Auckland. The wharf area where the American's Cup will be held [incredible what they're doing to get ready for this event], some stores, the old post office [fantastic architecture] which is going to be restored, along the harbor to a look-out which gives you a fantastic view of the city. But now it's dark and time to head back to the house to meet Tom, her husband, and have dinner. The lamb roast smells divine as we come into the house. Oh, and she has the most gorgeous cat you've ever seen. Not that I like cats all that much. LOL LOL (For those of you who may not know, I have 8 cats.) Tom arrives a few minutes later and we have drinks and chat a while before dinner. They are wonderful people, even offering us a bedroom if we didn't want to drive on to Stanmore Bay that night.
Although we appreciate the offer we think we'd better push on. After whirling and winding here and there and getting thoroughly lost once more we finally get instructions at yet another BP station for getting to the motorway and in about 40 minutes we're at our next home.
Today has been a total kick back day, and we both needed it badly. Did some laundry, grocery shopping, walked along the beach, read, etc. This is a 3 1/2 acre complex donated to the police by several corporations here in NZ. It sits right on the beach of a beautiful bay. Totally relaxing.
Called Shirley and made plans to meet Tuesday and called Nina and made plans for Wednesday.
Now I have to get to the caretakers office and get a bunch of emails out. Weird. This complex was build with no phones in any of the units [8] or the conference center. Oh well, I'll survive.
Cheers for now,
Carole