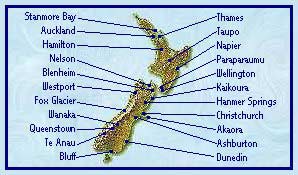 #7 - We're in Taupo

I'll bet you'll sure be glad when I get home and all these letters stop. ;-) I can't believe this is the 7th of May already.

Wellington drivers are maniacs. That's it. Pure and simple. BTW, here the pedestrian does NOT have the right-of-way. They are fair game. *grin And there are almost no stop signs here. Instead there are Give Way signs and Give Way painted on the streets. Really weird at first.

We're on the way from Paraparaumu to Napier, where we have another holiday home scheduled. Just outside town is a large farming area. Loads of fruit and veggie stands.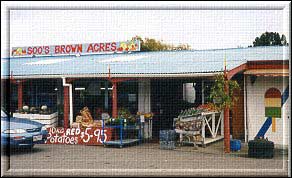 So we decided to stop at one and pick up a couple of apples and bananas. Right next to the apples was a green fruit I was unfamiliar with...so I asked what it was. Feijoas. The clerk said to hold on, went and got a knife and cut one in two. Came up with a couple of spoons and we stood there and ate it. It was really quite good so we added a couple to our selections, chatted for a few minutes and took off again.
The scenery here is kind of anti-climatic so far, after the South Island. Mostly farming land we're passing through at this point. If you're ever in Shannon, be sure to stop at the Cafe Extreme for lunch and get the stuffed potato. Yummmmmmmm. They scoop out the potato and cut it into thin slices then mix it with sliced ham, a little tomato, sour cream, salt and pepper. I thought I tasted a bit of cheddar, but can't be sure. It can be served hot or cold. I asked for hot. I even ordered one to take with me. *VBG We chatted with the owner a bit and then took to the road again.
We stopped at a couple of wineries just before getting to Napier. Nice.
City driving again. ;-( Wandered here and there and finally found the police station. Decided to wander around town a bit. Drat! Already 5:30 PM and we've found that NZ closes up around 5. Most businesses [no, not the restaurants and bars] close at 5 PM. A very few stay open until 6. On Saturday the normal closing time is 3 PM. I'm still not use to it.
That evening Matt decided to rest his eyes and watch TV while I started plotting out the rest of our time here. Sheesh, it's flying by so fast now. I mean we're down to just a few more days. I don't want to go home.
The next morning we head once more to the station to drop off the home keys and met Graham, one of New Zealand's finest. He's been collecting police patches, pins and other memorabilia for 20 years. He currently has over 3,000 pieces to the collection and it's entirely computerized. They're beautifully mounted and on display at the station. Very impressive. We chatted and took pics for almost an hour and a half before getting on our way.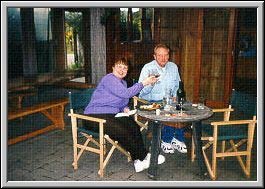 Made our first stop of the day at the Sheepskin Center. Oh dear! Really shouldn't have done that. I'm sure VISA is loving this trip. Lord, look at the time. It's already noon and we aren't even out of town. Ohh, look at that sign - Crab Farm Winery. Let's stop. Taste a couple wines and have lunch. Oh yeah. Hey, these are really good wines. They have a Cabernet Franc to die for. Truly the smoothest red I've ever had. Also really, really liked the Reserve Chardoney and Muscat. Matt ordered smoked salmon for lunch and I had a cracker, cheese and fruit plate - all served in a marvelous patio. We bought a bottle of the Cabernet Franc to drink with lunch [and were told we could cork what we didn't drink to take with us] and another to take home. Absolutely delightful. Spent some time chatting with other guests and people working there. Even the chef came out and joined us. Chatted about wines, food, NZ, the states, the internet, etc. Had a lovely time. This is a don't miss stop for sure.
Now it's 2:30 and we're still not out of town. It's starting to drizzle as we head for Taupo. The scenery is improving the further we get from town. What can I say? The hills are different from down South. They aren't rounded and smooth like the east coast, nor craggy and sharp like the west coast, but somewhere in between. Forests abound. We stopped at a look-out for Waipunga Falls. Oh my word!!! This is one of the most incredible falls I've seen, bar none!!!! Get the cameras! I could have stood there for an hour just looking. A meandering stream turning into three narrow falls, side by side, that tumble into a single stream that in turn tumbles into a pool splashing on rocks and heads off again a stream.
We arrive in Lake Taupo and head for the AA office [Auto Assoc. folks, not Alcoholics Anonymous]. After getting a street map we wander down to the New Zealand Store. Oh my. VISA is going to love us even more after this stop. Souvenirs and gifts. There is a wonderful clerk here named Michelle. Super helpful. She even gave us her e-mail address so we could order stuff after we got home. Having some of it shipped home. Almost done with my Christmas shopping.
Grabbed a motel room and dinner and guess what??????
I'm all caught up!!!! LOL LOL LOL
Cheers,
Carole and Matt
P. S. Vianne, Shirley and Nina, we're almost there! Vianne, will meet you in Hamilton as suggested.