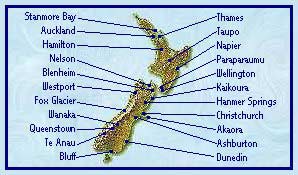 #5 - Te Anau [cont.]

It's me again.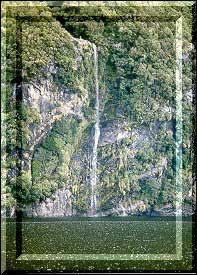 Booked for a tour of Doubtful Sound today. Up and gone by 9 to pick up the bus for the first part. We'll be jumping back and forth between boats and busses several times. Interesting bit of info from our bus driver. Avalanche at home means snow, but that's not always the case here in the southwest part of the South Island. Here it can also mean trees. Seems the mountains are primarily rock, with virtually no soil. Ice forms fissures in the rock and the moss and lichen begin growing. They provide the nourishment for the later plants and trees. But when the greenery starts growing, there's nowhere for the roots to go, so they grow on top of the rock. As they reach out they latch onto other root systems. If something disturbs a large tree and it falls, or whatever, it brings others right along with it. You can look up on the mountains and see large clear areas where these avalanches have occurred. Sometimes, they're called treefalls. Hey, I thought it was interesting.
The Sounds are stupendous. Sheer mountains rising straight out of the sea. Small islands dotting the views. The deeper we go into the Sound the fewer birds there are. It's a perfect day. The brightest of blue skies, sunny and warm, but not too warm, and the ever-present clouds. But......not a sheep in sight!!! LOL LOL At every turn a whole new world opens to the sight. Well, maybe not quite perfect. We're having our first run-in with sand flies. Ugh!!! Tiny, black flies that BITE. And the bites ITCH.
One bus part of the trip takes us into the tunnels of the power station. It's huge. Seven turbines, 5 of which are always running. A new tunnel is being drilled nearby which will dramatically increase the amount of power available. This is where Dave, Carol's husband, is working. If I remember correctly it'll be about 6 km long when finished and they're about a third of the way through currently. Totally awesome.
The tour ended about 5:30 pm. It was a very long, very full day. We grabbed some takeaway [fast food or take out] and headed back for our holiday home for an early night.
Matt's playing golf today with Carol and Sue, a friend of Carol's. Now think about it. My name is Carole Sue. :-) Dave offered Matt the use of his clubs for the day. Now all you golfers, listen up here. This is a beautiful 18-hole course and the green fee is $20NZ [that's about $11US]. Dave and Carol's membership for the year is $300 and for that they can play as often as they wish. Unreal!
Me? I stayed at home, climbed into the over-size tub and SOAKED. Ahhhh, it felt so good. Then just puttered round the rest of the day. Walked across the street to the lakefront and fed the ducks.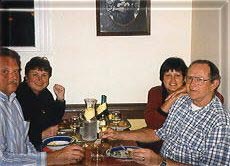 That evening we went to Carol and Dave's for a glass of wine before we all headed out for dinner at the Redcliff Inn. We had a wonderful evening feeling we'd made some new friends. They'll be in the states in August and we're looking forward to seeing them again.
Did I tell you about the stars? Nope, I don't think so. Well, I've always said the stars at home were marvelous - and they truly are. But here you can see the Milky Way very clearly almost every night! We all stood outside the Redcliff Inn as we prepared to say good-bye and it was really a magnificent sight.
Next stop, Wanaka. We'd heard a lot about Queenstown and spending time there, but just don't have the time, which was ok with us. Once we got there we found it to be quite a touristy beach city, much like at home. However......we did stop for a gondola [tram] ride that was something else. This thing rises over 450 km almost straight up the mountain. With, of course, sheep grazing on the steep slope. Once up you can also take a luge ride or parasail [neither of which was real high up on our list of things to do]. At the top was a 360 degree view of the city, mountains, lakes, etc. The cars below didn't even appear to be as large as Hot Wheels.
The scenery today is spectacular with a riot of fall colors everywhere. Reds, rusts, yellows, greens everywhere you look. Tall yellow beech and squatty red maples. Leaves fluttering in the breezes.

About 20 minutes out of Queenstown is Arrowtown, an old gold mining town that is being restored. We stopped and wandered around for about 90 minutes. Once the sun drops behind the hills, believe me, it gets cold fast. It's a quaint little place and well worth the time. But, we need to get back on the road as we're booked into another holiday home in Wanaka.
Picked up the keys at the local Police Station and laughed at the sign outside which read 'Parking for Guests'. Right! Got to the house kind of late in the day, went right back out to dinner [the first one we didn't care for, BTW], then back for an early night. I think being on the go all day every day is finally catching up. But I wouldn't change a thing.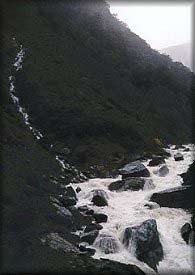 From Wanaka we cross the Haast Pass and begin our journey up the West Coast. Time is flying. It's raining. One minute barely a drizzle and the next the heavens open up with a down pour. The sky is a dull gray with nary a break. As we climb higher through the pass, it gets colder. But, as they say, every cloud has a silver lining. Because the mountains are basically rock, the runoff is instantaneous and immediately we begin seeing waterfalls. Everywhere. Narrow ones dropping one or two levels, Wider ones doing the same. Some are crashing down with water spraying everywhere. Some are so close to the road it's like driving under them. I see three, four, five all at the same time. They're crashing into the rivers below. Rain or not, it's a great photo opportunity and I take full advantage of it.
A year ago, I'd never seen a glacier. When I went to Alaska to see Jeanne and Cheryl that was high up on my list of sights to see - and the first thing Jeanne took me to see. They were fantastic. Now I have the chance to see glaciers here in the southern hemisphere - and I don't intend to miss them. We get into the town of Fox Glacier about 4:30. It's too late to get out to the glacier so we decide to stop for the night and take off early. Matt, somewhat sarcastically, mentions a helicopter ride. I, of course,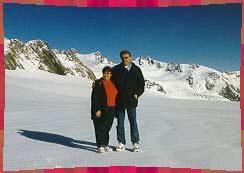 instantly take him up on it. Now, he's sworn after his stint in the army he'll never ride in another one, but, bless his heart, he finally agrees. Our motel host [We wouldn't hesitate to recommend the Mt. Cook View Motel in Fox Glacier to anyone. Very nice rooms at a reasonable rate which Chris himself decorated.], Chris, works for one of the local companies during the tourist season and offers to call and see if he can get us a reservation. We sign up for the big tour - 40 minutes worth. I can hardly wait. I've never been up in one before. Now, I just have to pray for the weather to clear!
We woke to a brilliant day. Blue skies and fluffy white clouds [now where have you heard that before?]. The ride is on and we pack up and head for town. We're going in a Jet Ranger which seats 4 plus the pilot [yup, we definitely need one of those]. One passenger up front with the pilot and three across the back. There are 4 of us booked for the flight and we're told the seating will be switched around when we land on one of the glaciers so everyone can have good views.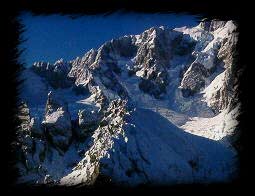 It's an incredible feeling. Definitely an E ride. We went up over 10,000 feet. Over Fox Glacier, around Mt. Cook and Mt. Tasman. Fresh snow covers everything. Fox Glacier is like a twisting ribbon coming down the mountain. Gorgeous. We're on top of the world. Then around to Franz Joseph Glacier where we land. Whoopee! We're walking on a glacier. How neat! And it's pristine. We're the first helicopter to land today. It's like we are totally alone in the world. We exchange cameras with the German couple we're with for pics. After about 15 minutes we boarded again and headed back -- way too soon.
When we landed and were greeted by gal taking us back to town her first question was, "How did you like the trip?" I told her the ride was fantastic, incredible, wonderful.......but I felt cheated. I got stuck in the middle back seat for the whole trip. She obviously didn't like hearing that as she immediately stopped talking to me. Didn't say another word to me during our ride back to town or when we got off the van. Wouldn't even look at me again. Jeez, I didn't ask for a refund or anything. And I was nice. Honest! But I did feel cheated. Everyone else had full window seats for the whole trip.
Oh well, back on the road for who knows where tonight.
Sheesh, look at the length of this missile. Better stop for now. But I'll be back later.
Cheers from Highway 6!
Carole and Matt