E-mail Travelogue #7




First I call Air New Zealand and explain what happened – and find out that when we were a no-show all our remaining flights were cancelled. She books us on a flight to Sydney leaving at 7:00am the next morning and manages to rebook all our other original flights. It will cost us an additional $100, which we could pay when we checked in. Next the hotel. I explain we missed the plane and would be coming in the next morning. We should be at the hotel the next morning by 10. I was told they would arrange for an early registration. What next? Oh yes, the car. It was supposed to be turned in today. "Oh, you finally turned up", was their response. I made arrangements to turn it in the next morning.

Now what. Well, I have a box of souvenirs packed I was going to ship on our way to the airport, but now we'll have to take it with us so we need tape. And we need dinner. So off we go. We find the tape at Woolworth's, but can't find a restaurant. Would you believe it – our last night in New Zealand, and instead of a leisurely dinner with a good friend at a nice restaurant, we're in a dingy motel we'd booked through a guide we'd picked up in Pahia) room eating, you guessed it, KFC.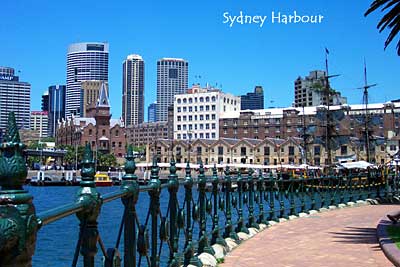 Up at 3:30 am and on the road by 4. Airport about 4:30. Matt drops me and the luggage off in front of the terminal, and leaves the van at the Long Term Parking Lot. You know, this van has been terrific. We stand in line to check in for about 40 minutes and then are told we can't check in until we pay at customer service. "I was told we could pay here", says me. "Sorry. I don't handle any money", says she. Matt heads for customer service and I head to the back of the line - again. Sure hope this isn't the beginning of one of 'those' days. Finally, we're through and head for security. Ahhh hah, we have time for a coffee and hot chocolate (who can eat at this time of the morning?) The plane is only about 15 minutes late and we're on our way to Australia.
We clear customs, grab a taxi, and are at the hotel by 9:45am. We've been told it's a really nice hotel in a great location. It's over the water at the wharf. It was Pier One Parkroyal when we booked, but it's changed hands and is now Sebel Pier One. We head for registration, but an early book hadn't been arranged. The clerk says he'll have to arrange for another room as our original room was no longer available. Doesn't make sense to me as we'd left our credit card, but that's fine. We've reserved a king, no smoking. We're given room 010 and as we head back past the kitchen and through a set of steel doors I'm getting the feeling this isn't going to be what we'd expected. Yikes! It's a cracker box, and you can smell the kitchen odors. We head back for the desk and the clerk. "This really isn't what we were led to expect." "Well, it's all we have. We had to downgrade you to a queen room." Back to the room to talk this over. Matt finally says to stay put and he's going to talk to the manager. He returns about 15 minutes later and says not to unpack, we're leaving. "What on earth have you gotten us into now? Where are we going?" "The manager is moving us to a new room." Ha Ha! Isn't he cute? BUT, the room isn't ready so we can relax in this one or wait in the lobby. I'm not wasting this day – so about 10:30 we take off for a walk around the wharf. We're right next to the harbor bridge and it has to be one of the most massive, impressive bridges I've ever seen. Incredible to think it was built in the early 30's. There's the Opera House. Just like all it's pictures. And we keep walking. We're in and out of shops in an area called The Rocks where I find a neat little store where I finish my personal shopping and Christmas shopping. By the time we get back to the hotel, it's almost 5:00 (and remember, we've been up since 3:30 am and gone through 2 time zones). We go to our new room, which is much more spacious, on the first floor, and overlooking the harbor. This is more like it. We're both exhausted, so after dinner in the dining room (very unorganized staff) we hit the sheets.
I received an email from Leslie and Alphonse, the Australian couple we met on the Cape Reinga tour, suggesting we get together for dinner. They live about an hour out of Sydney. That sounds like fun. I email back that we have a big day Fri., but would love to meet them for dinner Sat. I gave them the hotel number so they could confirm.
We picked up a number of brochures yesterday, and have talked to a number of Australians over the last few weeks so we have an idea of what we want to do. During breakfast we start chatting with a couple from upper New York. We're planning on taking the Red bus around the city and they are taking the Blue one on the outskirts. These buses travel in a repeating route stopping a numerous sites. You can get on and off anywhere along the route for the day. Every time we stopped to do something outside – it rained. When we stopped for indoor stuff, the sun was shining. Go figure. The Chinese Garden was overrated, but the Aquarium was outstanding – an absolute must-see for anyone visiting Sydney. We sat in Mrs. Macquaries chair – carved out of a rock sitting on the wharf. We walked the Royal Botanic Gardens. And arrived back at the hotel somewhere around 6:30, tired as usual. But it was a fun day. We ate again in the dining room and decided to make it an early night as we have a full day planned tomorrow.
Boom, crash, bang, bang, bang! What's going on? Matt looks out the window and there's a Christmas party going on, with rock music blasting. Sheesh! Matt calls the desk and asks how long this noise is going to last. 11:00, he's told. Finally it quiets down and we get to sleep.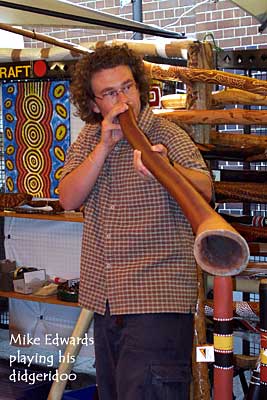 After breakfast we walk over to The Rocks Market. They close off several streets for a Sat-Sun open air market. Oh, this is neat. We run into Jack and Diane there and find out we're both scheduled for the hotel's champagne harbor cruise this afternoon at 3:00. Apparently, they've been having problems with the hotel also. We got back to the hotel about 1:00 only to find our keys no longer worked. Back to the desk. "Oh, gee, we're sorry. They should work the rest of your stay now." Back to the room. It hadn't been cleaned yet. Back to the desk. "Oh, gee, we're sorry. I'll call them now and ask them to do your room." We wait in the lobby, and wait. 25 minutes later I again ask when our room will be ready. I get an assistant manager this time. "Sorry, the staff was cleaning rooms for new arrivals." "I beg your pardon." "They are in now and it should be ready in 20 minutes." La de dah de dah. 20 minutes later. "Is it ready yet? We have less than 30 minutes to get ready for this afternoons cruise." Yes, they are just finishing." Back to the room, where they are in the process of moping the entry, which of course will be dirty as soon as we step on the wet floor. Oh, the message light is blinking. Much be a message from Leslie. Dial 8 Dial 2 – silence. I try again. I call the switchboard operator. "The light is blinking and I am expecting a message, but when I dial the 8 – 2 all I get is silence." She checks and tells me I don't have any message, that she'll have someone check the phone.
Before leaving on the cruise, I asked that the floor be remopped and the phone checked. Jack, Diane, 4 older ladies, Matt and I were the only ones on the yacht for the cruise – and it was wonderful. Another perfect day on the water. What a life. Glenn, the captain, was quite a character with lots of stories. Karen, his assistant, was really nice and kept us plied with champagne and sandwiches. The 90 minutes flew by and way too soon we were back at the dock and the hotel. In our room, the phone was still flashing, so I tried to retrieve a message once more. No luck.
By the time we showered and changed, it was 6:30 (the time we has suggested meeting for dinner) so I went downstairs to see if they were here. At the concierges desk I made dinner reservations at 7:30 for 4 at Wolfies Grill on the wharf (about a 5 minute walk) and asked for a taxi at 9:00 the next morning.
"Carole!". Turning around, I found Leslie. She and Alphonse had arrived early and were having a drink outside. I called up to Matt to meet us for a drink. We yakked for a while and then walked to the restaurant. Our first drink was on the house, thanks to making the reservations via Pier One. We had a wonderful dinner with new friends. Would you believe we sat there talking and eating and drinking for 4 hours. It was a great way to end our trip. We walked slowly back to the hotel and bid each other good-bye, then headed to our room to pack for the trip home all the time wishing we had several more days here in Sydney to explore.
Sydney is a great city, with very friendly people. I hope we can return as we just barely scratched the surface. However, I can't recommend Sebel Pier One. I don't know if it is the transition from one owner to another but it seems we ran into one problem after another. Also, the staff (restaurant and bar, in particular) seem quite unorganized with no supervision.
See ya soon,
Carole